2020 CFTP Red! 2011 Kona Blue
We have had this discussion here a few times, but there are some that still refuse to accept that their car has Cobra emblems, but is NOT a Cobra. The long-and-the-short of it is when you put the names "Shelby" and "Cobra" together, you are referring to a 2-seat roadster (there is one exception discussed below). This is different than a "Mustang Cobra" which reigned supreme at Ford, but ended in 2004. You can blame Ford though since they moved the Cobra emblem around to different cars and also used "Cobra" engines to further cloud the Cobra name.
Here is a compilation of info quoted from other sites plus pictures from my collection as well as from the internet.
So, here we go...
Carroll Shelby:
"Even before he started racing professionally and won the 24 Hours of Le Mans, Carroll Shelby had a dream of building sports cars under his own name. But in early sixties, that dream seemed impossible. His health condition forced him to stop racing and his other business ventures didn't look promising. But in 1961, he got the news that AC Cars from England would stop production of their AC Ace model since the Bristol six cylinder engines weren't available anymore. True entrepreneur at heart, Shelby realized that the light and nimble British roadster could be a perfect match for a powerful American V8 engine and that this could be the chance of becoming a constructor, and not just a retired racing car driver. Very soon, he contacted AC Cars and they sent him an engine-less body to his shop in California. With some help from Ford Motor Company and a small team of mechanics, the first Shelby Cobra was introduced in 1962."
"The original Cobra 427 was made from 1965 to 1967 and in that period Shelby produced 348 copies."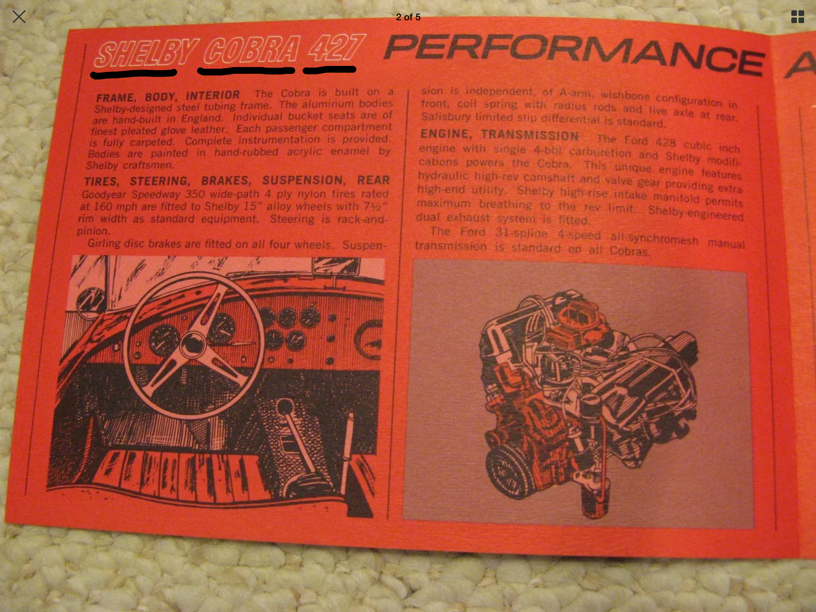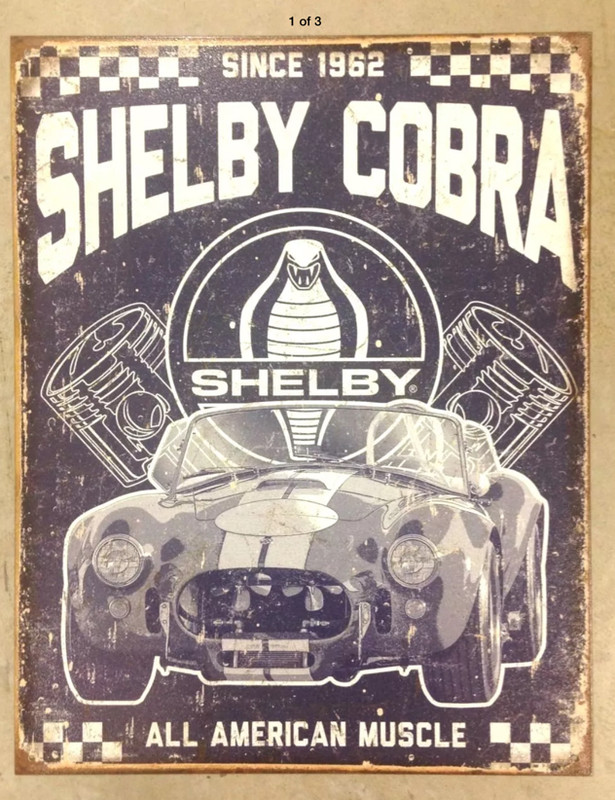 GT350:
"This first version of the Shelby Mustang*featured the iconic Cobra emblem that supposedly appeared to Carroll Shelby in a dream. "I woke up and jotted the name down on a pad which I kept by my bedside — a sort of ideas pad — and went back to sleep," Shelby said, "Next morning when I looked at the name 'Cobra,' I knew it was right.""
"The 1965–1966 cars were the smallest and lightest of the GT 350 models. These cars are often called "Cobras", which was the Ford-powered AC-based two-seat sports car also produced by Shelby American during the same period. Both models use the Cobra emblem, similar paint scheme, and the optional "Cobra" valve covers on many GT350s that were part of a marketing tie-in by Shelby, as well as one of his iconic symbols. All 1965–66 cars featured the K-Code 271*hp (202*kW; 275*PS) 289*cu*in (4.7*L), modified to produce 306*hp (228*kW; 310*PS). Marketing literature referred to this engine as the "Cobra hi-riser" due to its high-riser intake manifold."
"For 1966, the GT 350 lost its Mustang tag and was marketed simply as the Shelby GT 350."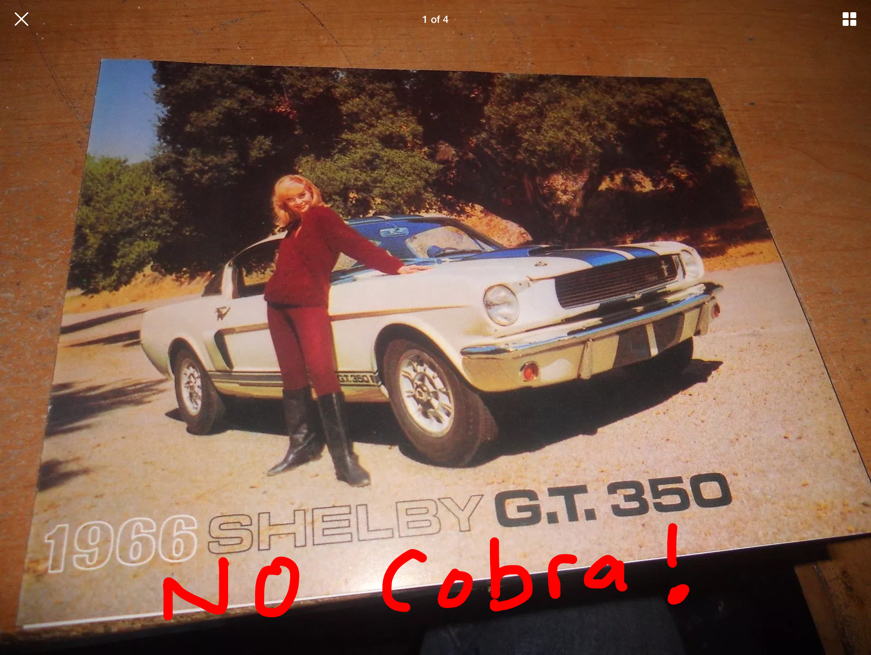 "For 1967, the G.T. 350 carried over the K-Code high performance 289 with a 'COBRA' aluminum hi-rise. The G.T. 500 was added to the lineup, equipped with a "Ford Cobra" V8 (FE Series 428 cu.in.) engine with two 600 CFM Holly four-barrel carburetors sitting atop a mid-rise Aluminum intake manifold."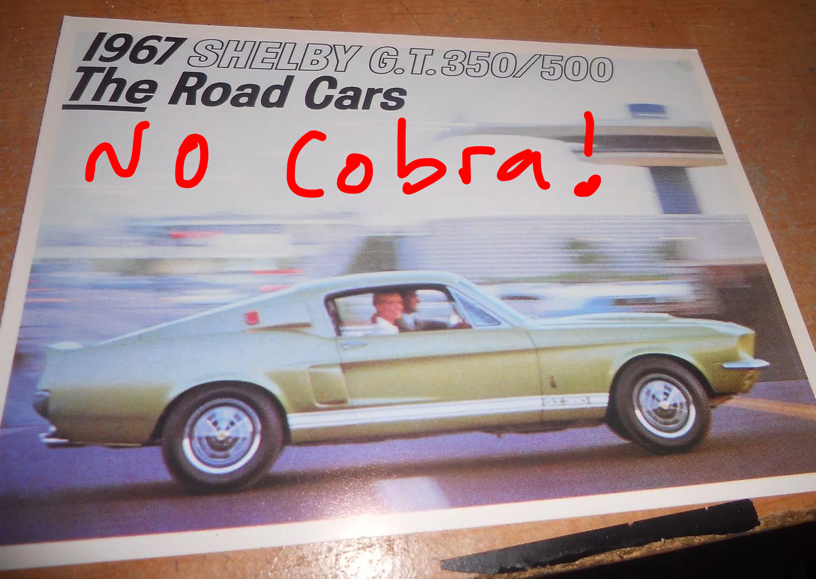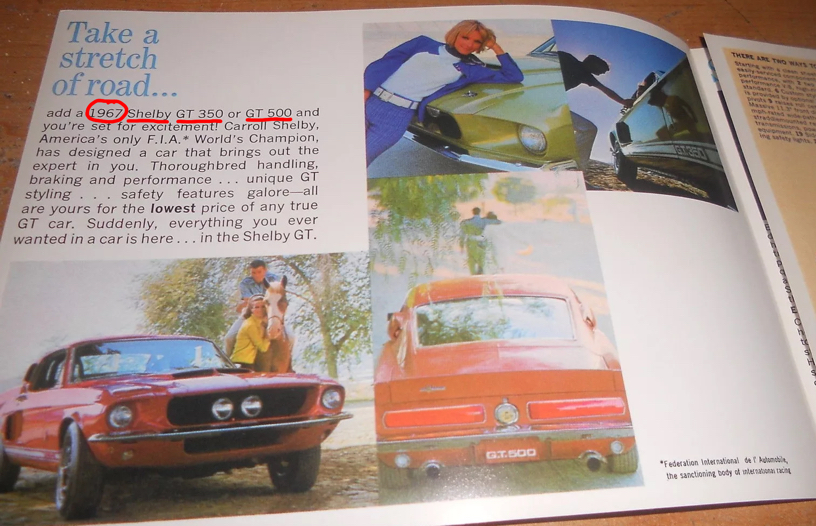 The exception: Ford took over from Shelby in '68 and got a little excited with the Cobra name/marketing:
"For 1968, the Cobra name was applied to both models, and they were now marketed as the Shelby Cobra GT 350 and the Shelby Cobra GT 500."