Discussion Starter
•
#1
•
The spider gears in the stock limited slip are done, busted, broke, sheared off. Call it what you want.
I was at the track, 1/8 mile track in Ohio called Pacemakers. I have Mickey Thompson Drag Radials. Stock Gears (3.31) Evo Stage II, Bassani 3" exhaust w/ no cats and race mufflers. Dyno 530hp & 513tq I had been working on launching the car. Tires 17psi 3k dump and the car boggs 4k and it just spins. My best time was
[email protected]
with 1.85 60ft.
I had 2 races that day. one in the morning and one in the afternoon.
In the morning race it was for Mid Ohio Ford Club members only. The guy in charge of the track said for the first round only he would give $20 to the best reaction time. I won it with a .5111 on a .500 tree. I also beat last years Club Champion. 7.711 on a 7.70 dial-in to his 6.39 on a 6.35 dial with a .5203 reaction time. Yeah for me. and ways I lost in the 3rd round to the guy that ended up winning the moring race. I ended up getting $10 more for making it to the quarter finals. (only 29 cars)
The Afternoon race: cost $30 (in which I had already won that much)
First round didn't turn out so well. I was sleeping at the starting line, had my worse light of the day (I'm embarrassed to say this) .662 reaction time and lost.
I decided to buy back in. Cost $15 I was line up against a slower car. He was dialed in at 11.24 and I was dialed in at 7.70 (it seems like forever sitting there) anyways I won!
Before the next round I was in the staging lanes and one of my buddies asked me when I was going to put a Spool (a fully locked differential) in my car because I was doing that 1 wheel thing. I said, "What, I am doing the ONE WHEEL PEEL, for real? YEP No, for real? Yes your passenger side is spinning and the Driver side is hoping. Usually when you are doing the "one wheel peel" the clutches in the limited slip are bad.
I thought no big deal I will look into it when I put my 4.10's in.
On to the race:
Now I am lined up with some Chick in a Very Clean Black 68 Camaro. She is Dialed in @ 8.12 and me 7.70 so she get to leave first. Boom she is gone and a split sec later I get the green I was holding the rpms at 3300 when I dumped the clutch and the car just barely rolled but I could hear a Bunch of clunking in the rearend. I put the car in neutral and set the E-brake and got out right at the starting line and looked under the car. didn't see anything. The guys at the starting line came up to me and said, "your still in, you won!" I guess the chick broke out (ran faster than her dial-in) I told them I was done the rearend if gone.
Here are the pics of the results:
the ring and pinion are fine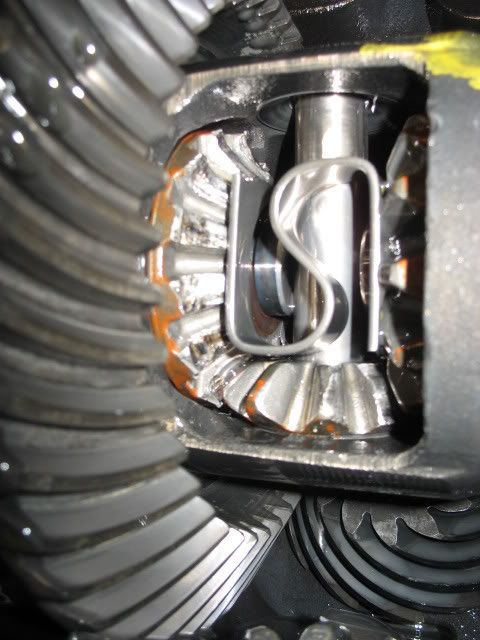 look at the gears laying in the oil.
don't know if this is going to work but here are some videos that were takin the same day before I broke. Sorry about the quality but they were taken with a camera phone. If they don't work on your computer you might need to download QuickTime 6.5 or higher. (I had to)
The sound of the SuperCharger on this first one is pretty cool. Turn your speakers up, You will here me before you see me.
this one is when I was racing that car dialed in at 11.24. watch him leave and watch how long I have to sit there.
This was just a time trail against a stock 2008 Mustang GT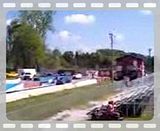 After looking at all this and taking the time to read all of this. I want to know what type of limited slip Diff have you put in if you have changed yours. If not this could happen to you as well.
I made a bunch of phone calls (roush, saleen, jdm, babbit bearing, eaton, dts) I ended up going with a Detroit TrueTrac and axle girdle.
Let me know your thoughts