Discussion Starter
·
#1
·
The original transmission part number is
TUET5800.
The new transmission part number is
TUET8175B.
I am interested to know when these new transmissions started going into the 2008 GT500.
The drawing for the revised transmission was released and approved on 8/9/07.
The only change is in the input shaft that interfaces with the clutch spline hub.
Tremec did 2 things to the input shaft.
1.)
The input shaft has a revision in diameter of the groves in the 26 splines. Tremec's drawing shows a "higher pin diameter". That is a form of measurement in the ten thousandths. It is a very minor change that made the groves a little wider in the splines to give a little looser tolerance with the clutch hub.
2.)
The input shaft is highley polished after it is manufactured.
If you look on the side of your transmission it will have a metal tag on it that looks like this: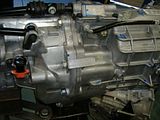 The top left number is the ford parts number. The top right number is the coded tranny build date.
The bottom left number is the tremec part number (TUET#). The bottom right is the serial #.
To find out the date of the tranny manufacture this is the decoder.
A=Jan
B=Feb
C=Mar
D=April
E=May
F=June
G=July
H=Aug
J=Sept
K=Oct
L=Nov
M=Dec
The 2 numbers after the letter represent the day the tranny was built.
The next number is the year.
7=2007
8=2008
The next number is the shift it was built in.
1=Shift 1
2=Shift 2
So with that being said, lets try to pin down just when the new revised transmission started going into the 2008 GT500's.
POST YOUR MODEL NUMBER AND MANUFACTURE DATE OF YOUR TRANNY.
Take a photo of your tag if you can.