Sync on a 2009 GT500
---
Poking around, I noticed a
Sync Accessory Kit
for 2009 Mustangs is available on the Ford Accessories site. You can also find the kit on
partsforcheap.com
.
Sounds good, right? I'm overjoyed - I can add Sync to my GT500!!! Well, maybe not. From a very informative post on
themustangsource.com
, Sync is not available for mustangs with touch screen navigation. My nascent hopes were quickly dashed on the rocky shores of a cruel reality.
The description on partsforcheap.com says the same thing, but then goes on to shine a faint ray of hope on the situation. Everything will work except voice recognition.
So, my question is - has anyone done this? If so, what was the result? The ability to have bluetooth phone connectivity and a USB port for music playback while keeping the stock nav system, which I like pretty well, is exactly what I'm looking for.
Any thoughts or advice would be appreciated. Thanks!
---
2015 Premium GT: Magnetic + 401A + GT PP + Recaros + Nav + RPA
Re: Sync on a 2009 GT500
---
Nice find... I'm interested in this set-up as well.
---
CAR:
2012 GT500 Black w/Grabber Blue Stripes- SOLD
PREDECESSOR
: 2008 GT500 Red w/White Stripes
MODS:
VMP 2.59 Pulley & Tune, JLT Induction Tube, Airaid Blue SynthaMax Filter, Painted STB Brace, FRPP Springs, BRM Adjustable Panhard Bar, Borla S-Type Exhaust, Speed Dawg Shifter, 20% Window Tint, NXT Hood Lifts, CDC Dead Pedal, Kicker Speaker/Sub Upgrade, Cobra Floor Mats, 2013 Splitter, SVTPP Wheels & Tires, Cervini Tinted Taillights, V-Led 5K LED Fog Lights, etc.
[
Re: Sync on a 2009 GT500
---
I'm at an impasse on this.

You definitely need a Shaker radio, and I have the nav unit. Ford wants $570 for a Shaker 500 + $554 for the Sync unit + ~ $400 for the labor. Add in tax and you're looking at ~ $1,600.

Now, there are tons of Shaker 500s on ebay, but the radio unit supposedly has to be the right revision (2009 model), and I would want one of the fancy ones with the chrome rimmed knobs. Harder to find, and you have to worry about condition, etc... The Sync unit is available for ~ $100 cheaper elsewhere too.

In the end, it seems to me that the smart thing to do is to go with an aftermarket nav system. The

In short, either way you go you're going to spend money if you have nav in your GT500. I'm still looking at options.
---
2015 Premium GT: Magnetic + 401A + GT PP + Recaros + Nav + RPA
Re: Sync on a 2009 GT500
---
I've decided against going the Sync route. I'd have to downgrade to the Shaker 500 head unit and by the time you add up the cost of the radio, Sync unit and installation you're looking at $1,600. Not worth it for a non-touch screen system, IMO.
So...
The Z110BT is being phased out. You can still find it and the price is right (~ $900) but I've been looking at the new models. The upgraded feature sets and interfaces are much nicer, IMHO.
Right now I'm looking at 2 specific units, the AVIC-Z120BT (successor to the Z110BT), and the AVH-P4200DVD. The Z120BT is a full featured touch screen nav unit with bluetooth and media connectivity (DVD, SD, iPhone, USB). Very nice system, but pricey. The P4200DVD is a Multimedia A/V receiver only (DVD, SD, iPhone, USB), no nav or bluetooth. You can add both capabilities by buying add on units though.
Z120BT: Great interface, does everything you could ask for, incl. voice commands. Expensive, but if you absolutely have to have nav functionality, I think this is the way to go. $1,400.
First Look
Various videos
http://www.youtube.com/results?searc...IC-Z120BT&aq=f
P4200DVD: Amazingly nice interface. Fully customizable and easy to use. It'll even display album art when an iPod/iPhone is connected as the source. $495.
Decent Overview
5 Part Review
Part 1:
Parking Brake Bypass
iPhone Control Demo
If you need bluetooth connectivity, you can buy the CD-BTB200 unit which connects to the head unit and provides hands-free calling and bluetooth audio streaming. $179.
Adding Bluetooth:
Bluetooth audio streaming:
You can add nav to the P4200DVD with the AVIC-U220, but the price is $400 and the functionality is not as nice as the nav head units.
Summary: If you absolutely NEED nav, get a full up nav head unit. Otherwise, look at one of the Multimedia A/V receivers and add a bluetooth unit. At this point, I'm looking at $1,400 vs. $675 and trying to decide if I really NEED nav and voice commands.
What do you think? I'm open to any thoughts, criticism and advice.
Thanks!
---
2015 Premium GT: Magnetic + 401A + GT PP + Recaros + Nav + RPA
Senior Member
Join Date: Feb 2009
Location: lone oak, texas
Posts: 862
Re: Sync on a 2009 GT500
---
I have an 09 with nav that I have never used. But another question,,,,does that pioneer have a backup camera ,,,,I think the camera mounts in the trunk keyhole?
Re: Sync on a 2009 GT500
---
Yes, you can buy and connect a backup camera for both of these units. You can mount it anywhere with a clear view of the rear, but I know RayMan put his in the keyhole of the trunk.
---
2015 Premium GT: Magnetic + 401A + GT PP + Recaros + Nav + RPA
Re: Sync on a 2009 GT500
---
After spending most of Saturday and all of Sunday researching and evaluating, I finally reached a decision. Hooray!
Pioneer AVIC-X920BT
Even came with a free set of speakers (Pioneer Premier TS-A702C) and a Pioneer iPhone cable. Dunno what I'll do with the speakers, I don't think they fit the Mustang.
In the end, I had to have nav. Otherwise I would have gone with the AVH-P4200DVD with the CD-BTB200 blue tooth add on. I spent quite a bit of time agonizing over the AVIC-Z120BT, but in the end I couldn't bring myself to spend $1,400 on a head unit.
I think the X920BT will fit the bill nicely. Nav, BT, voice commands, multimedia - DVD, SD, USB. Everything I wanted, with a nice touch screen user interface.
---
2015 Premium GT: Magnetic + 401A + GT PP + Recaros + Nav + RPA
Got the X920BT installed today
---
I got the adapter harness wired up this afternoon and installed the unit this evening. I have to admit to a bit of trepidation when I performed the initial smoke check, but it powered up with no problems. I have everything hooked up and working, but I haven't run the backup camera wiring to the rear of the car yet. It's just laying in the passenger floorboard ATM. I placed the GPS antenna on the top of the head unit so it is concealed under the dash. It's magnetic so it isn't going anywhere, and it seems to work well enough there. Retained accessory power works just like the factory unit. I did wire in a 30 amp SPST relay to provide high(er) current 12vdc accessory power instead of the default 1 amp supplied by the adapter harness. Probably wasn't necessary, but it was easy to do and it's cheap peace of mind.

Boot time is ~ 15 seconds. Bluetooth connectivity takes another 15-20 seconds after that. Not nearly as fast as the Sync system on my wife's car, but I can live with it.

Everything works as advertised - hands free phone and nav, music, video, and backup camera. The interface is amazingly nice. From big things like the way you scroll through music and video to little things like the radio station info display.

I tried a little bit of everything. Voice commands ("Find the nearest McDonalds", "Call Home") worked great. Listened to music from a thumb drive and from my iPhone. It was really nice to see the album art on the screen (only there when listening to music on the iPod). It does play wma lossless encoded music. Watched a little bit of a movie that I had on the iPhone, and it played perfectly.

Transferred the phonebook from my iPhone to the nav unit. You can scroll through it with the flick of a finger or jump around through the alphabet to find aan entry faster. Sound quality when making a phone call is really nice. Very clear. I mounted the microphone on the back part of the steering wheel, just below the center gauge cluster. It works well and isn't obtrusive. The mic wire runs straight back into the dash and is invisible.

When I first fired it up the audio quality sounded better, but not remarkably so. Then I started playing with the settings. Moved the fade settings two positions back towards the rear, then played with the sound staging. HOLY COW, what a difference. I have it set on "dynamic theater" right now and it sounds AMAZING. I can't wait to get some decent speakers in the car.

The only down sides so far are the cheapness of the faceplate mounting kit and the USB interface cabling. I'm going to have to find another faceplate kit, as this one is butt-ugly to me. I guess there's a reason why Crutchfield gives them away for free. As for the USB cabling, there's no means provided to mount the connector flush with the inside wall of the center console storage. I just opened up the access panel in the storage area and ran the cable in through there. I'll have to find a better solution, but it'll do for now.

Also, the stock nav unit is a Pioneer unit. AVIC-XD1377ZF. I was really surprised to see that when I pulled it out of the dash.
---
2015 Premium GT: Magnetic + 401A + GT PP + Recaros + Nav + RPA
Re: Sync on a 2009 GT500
---
Congrats on the install JP!
Here is how I installed my backup camera. The hardest part was finding a bullet camera that would fit the key hole and be water tight. But I kept patient and made the parts I needed.
I made a bracket out of galvanized strapping (I think it was less than a buck from HD) and used some rubber sheeting material as a gasket (don't know what it was made for, I just found it in my piles at work
).
Now that I think of it, the hardest part was finding a true ground for the negative wire but I eventually used the bottom of the Sirius antennae bolt and that worked for me.
Hope this helps!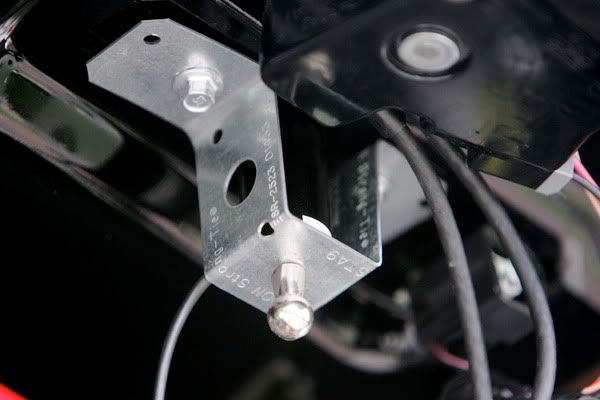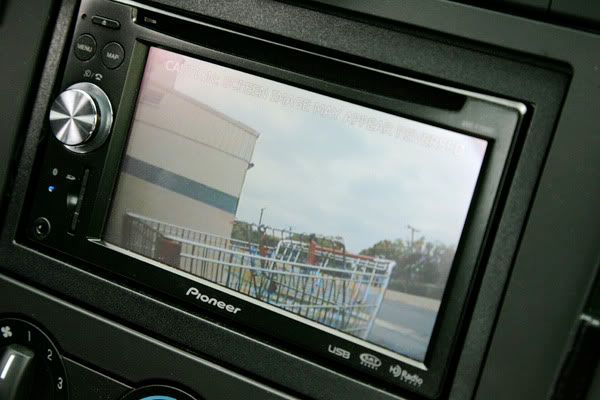 ---
2009 Shelby GT-500:
•
history
•
Black with Harvest Gold Stripes
#2244 of 3004 built / #635 0f 842 in Ebony / 434 with Alloy Stripes (now custom harvest gold) / 603 with Black Interior
Build Date - October 22, 2008 / Purchased - May 11, 2009
GET IN, SIT DOWN, SHUT UP AND HANG ON!
Re: Sync on a 2009 GT500
---
Thanks Ray!
---
2015 Premium GT: Magnetic + 401A + GT PP + Recaros + Nav + RPA
Currently Active Users Viewing This Thread: 1

(0 members and 1 guests)